All I want for Christmas is every hat Sarah Haley makes.
I had the good fortune to meet Sarah Haley, of Sarah Haley Design and Millinery at a craft fair hosted by Vaudezilla Burlesque and Productions. My booth was set up next to hers, and I spent a good part of the day exclaiming over her work.
Promising "a hint of old-time glamour for  your modern life" Sarah's work is creative, charming, and just plain gorgeous. With equal parts whimsy and elegance, her hats are expertly constructed.
Sarah graciously agreed to an interview with Retrofitting Vintage.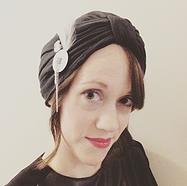 Retrofitting Vintage: What is it about hats that excites you?
Sarah: Hats are exciting to me because they make a statement!  Wearing a hat is an elegant display of confidence and style that most people envy.  From the design standpoint, hats are exciting because they're limitless!  Unlike garments where you're plotting around the physical limitations of the body, in hat design you can build in almost any direction – gravity is the only real limitation!
Retrofitting Vintage: What was your millinery education like?
Sarah: Interestingly, millinery is not really the lost art that people imagine it to be!  There are loads of resources online and many colleges that offer fashion or costume training also offer courses in millinery.  The neat thing about millinery is that there's no right or wrong way to get to the final product, so it's an art where you never stop learning.
I personally became interested in millinery in high school when I was working on costumes for a play and no one could tell me how to approach making some hats I had designed for one of the characters; so I went to the fabric store and found what I imagined would be the closest approximation to hat making material.  The problem-solving of the process got me hooked.
 My formal millinery training began in college.  I took a course that was taught by a member of the Chicago Millinery Arts Alliance and was fortunate that the instructor was willing to connect me to her network of milliner friends once the course concluded.
From there, I bounced around studying under the very talented members of the group and absorbed as much as I could learn.  Eventually, I found myself on Loreta Corsetti's beautiful atelier doorstep.  Loreta is truly inspiring and has gained international recognition for her amazing hats.  It took a bit of convincing, but she agreed to take me in as an intern for a summer (which ended up turning into a few years, on and off) and is where I truly began to understand couture hat making.  I've been focusing on my own collection for several years now and with every project I learn something new!  I guess you could say the education continues!
Retrofitting Vintage: Where do you draw inspiration from?
Sarah: Just about everywhere!  A lot of my inspiration is derived from history – society, arts, anything old-time glamour!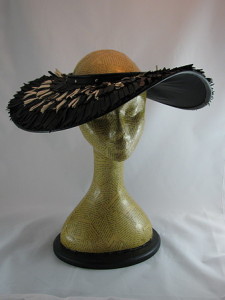 My background is in costume design so I find that my approach to hat design mimics the research and character analysis of the costuming process.  I love to be inspired by the person wearing the hat.  Whether it's someone I know already or I'm creating a character, it is very inspiring to wear someone else's shoes (or hat in this case).
Retrofitting Vintage: What are some of your favorite things you have made?
Sarah: This is a challenging question because I spend so much time working with each hat that I really become attached to all of the hats I produce!  But, some of my absolute favorites are the Tim Gunn inspired top hat and the Dior "New Look" inspired hat I made for the Chicago Naked Girls Reading.  That was a fun project because I didn't have to coordinate with a wardrobe, it was all about hats!
Sarah: I love feathers.  There are so many ways to use them they can be very bold or very graceful but they always make a statement.  For the body of the hat I really enjoy working with nice fur felt because after steaming and wetting it becomes soft and malleable, much like clay (but more beautiful).  Plus it's a classic hat making material.  Can't go wrong with classic!
Retrofitting Vintage: What are you making next?
Sarah:
Up next I'm launching my Etsy shop, which I'm so excited about!  I'm also developing some non-hat, but equally glamorous, wearable items which will be making their way to the Etsy shop soon.  Make sure you follow me on Facebook at
SHDesignMillinery
to find out about those projects and other hat related things that come up!
Retrofitting Vintage: Thanks for sharing your work with us, Sarah!