All I want for Christmas is every hat Sarah Haley makes.
I had the good fortune to meet Sarah Haley, of Sarah Haley Design and Millinery at a craft fair hosted by Vaudezilla Burlesque and Productions. My booth was set up next to hers, and I spent a good part of the day exclaiming over her work.
Promising "a hint of old-time glamour for  your modern life" Sarah's work is creative, charming, and just plain gorgeous. With equal parts whimsy and elegance, her hats are expertly constructed.
Sarah graciously agreed to an interview with Retrofitting Vintage.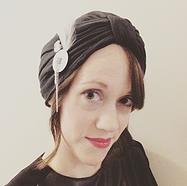 Retrofitting Vintage: What is it about hats that excites you?
Sarah: Hats are exciting to me because they make a statement!  Wearing a hat is an elegant display of confidence and style that most people envy.  From the design standpoint, hats are exciting because they're limitless!  Unlike garments where you're plotting around the physical limitations of the body, in hat design you can build in almost any direction – gravity is the only real limitation!