It's the little bits of everyday history that I like most.
Recently, I received a small treasure: my great-grandmother's home economics class notebook.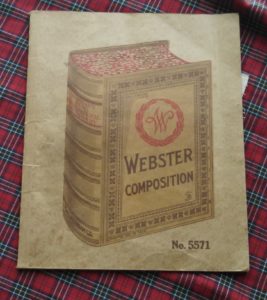 Dating from the early 1920s (we think somewhere around 1923), it is a showcase of the sewing techniques she mastered in ninth grade.
"Granba," as the family called her, was known as a talented seamstress, knitter, and general maker, and it was really neat to see early examples of the characteristics that would be her hallmarks: absolute precision, knowledgeability, and talent. Sadly, I know her only by reputation, as she passed away while my mother was still a child.
The book is a combination of demonstration and composition. It's a fascinating sampler of things a high school freshman was expected to be able to accomplish in the 1920s.