"Where do you even get those things?"
Since you can't pick up a 1950 girdle at Target, I often get questions about just where my underwear comes from. The short answer is: "Dead people. Almost every time."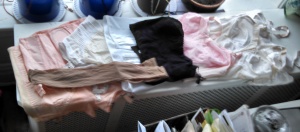 The longer answer is the following sources:
Ebay-Nine times out of ten, I got my vintage piece from Ebay.  My ideal seller is someone who was cleaning out their grandmother's attic and found a bunch of old underwear and decided to try and get $10 for it. Those sellers are rare, but one can find pretty good deals from dedicated vintage sellers, too.
I don't consider myself a collector of these garments–I wear them, and I'm pretty hard on them–so I'm not interested in mint condition, rare, expensive things. If the elastic is in good shape and the bones aren't poking out, I'm probably interested.
The search terms I use are pretty basic–the name of the garment I'm looking for ("girdle" "stockings") and then specifiers like "vintage", "vtg", "1950's" "1940's", the measurements I want and the like. It's helpful to think about what someone who wasn't sure what it was would call it  (like "old corset"), in addition to the proper name of a thing.
One of the more useful terms, especially for stockings is "deadstock." Deadstock items were never sold or used. They're still waiting in the package. I love deadstock stockings, because, let's face it, I'm not going to get a lot of wear out of already worn stockings. They are an essentially disposable item.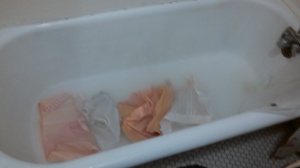 Thrift stores, estate sales, etc.
Thrift stores are a complete gamble. Every once in awhile, you will find something great. Most of the time, nada. Thrift stores are generally good sources for half slips, and they used to be a dependable source for full slips, but that seems to be tapering off lately. I just found a hand made cotton bra (looks like of 70s, if I had to guess) in a thrift store, but that was rare.
I've never found vintage underwear at an estate sale, but it seems like a thing that could happen.
Clothing swaps 
My awesome maybe French, maybe Canadian (the tag's in French) came from a clothing swap, as did my first vintage long line bra. Of course, I go to clothing swaps frequented by burlesque performers, so your mileage may vary.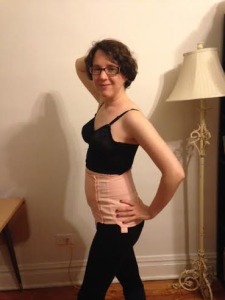 Next up, we'll talk about good sources of modern reproductions, in case the idea of wearing dead people's underwear doesn't appeal to you.