Today was the first real test…
There was no way I was wearing a girdle today. I had an audition, followed by a rehearsal, followed by an acting class, and didn't want to answer questions like:
Why can you only move up and down, and not side to side?
Did someone tell you that you should stand up that straight?
Why are your sides reinforced like a robot?
So I popped on a bullet bra and a garter belt and some stockings and called it a day. Here's the thing about garter belts and stockings: They've been pretty thoroughly fetishized. That's not a bad thing, whatever makes you happy is okay by me, but it does mean that I am really invested in people not seeing my garters on the street.
But you can see them, gentle reader, because you know they're just holding my goshdarn stockings up.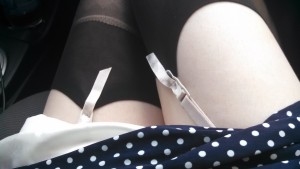 Garter belts fell out of fashion during the Sixties, once miniskirts were on the scene, and tights weren't just for ballerinas anymore. Nowadays, they're mostly associated with sexiness.
The garter belt I wore today is of modern manufacture, and it's pretty and lacy and has just okay clips. I prefer vintage ones because those clips are big and solid. Not as demure, but way better at holding up stockings. Not a bit of plastic in them. Not made for the male gaze.
Here are things it is easier to do in hold up stockings than tights.
Keep cool.
Not have your middle squished.
Use the bathroom.
Look like you're wearing nylons without doing any such thing.
Here are things it is harder to do in hold up stockings than tights, all of which I have learned today:
Sit on the floor without flashing people.
Stand on a windy train platform without flashing people.
Get out of a car without flashing people.
Pick something up off the ground without flashing people.
Most of these can be solved by bending your knees at appropriate times. A thing it would be good for me to remember to do.
I changed into regular modern underwear for my class, although I was very tempted by old-timey musical theatre rehearsal wear–a leotard and a pair of high-waisted shorts are both things that I already own….