I may be taking things too far…
I needed a house dress.
Hear me out. I needed something light weight, presentable enough to wear to the garden and the mailbox, but casual enough to clean my bathtub in. You may not be surprised to learn that I am not a sweatpants person. Jeans are too heavy in the summer. My other dresses are too nice for messy jobs, even with an apron. And so, I hit upon the idea of a house dress. Specifically, this house dress: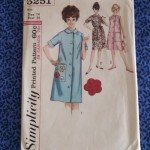 Purchased from the fantastic Raven at Raven's Nest Patterns, this sixties pattern seemed just right for my plans.
I decided on using some cotton print from my stash, inherited from my grandma's stash. It was pretty, and light, and I did not have quite enough of it. I pulled some more stash fabric for the collar and sash, providing a nice contrast.
Here it is on Cloris, my dress form: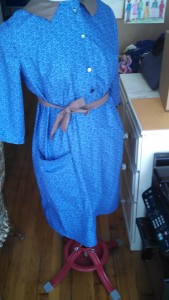 And here it is on me!