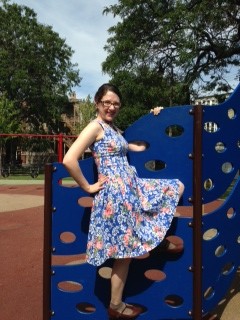 It's not acting like August this week in Chicago, which makes my plan of focusing on summer clothes feel kind of silly.
Nevertheless, here is my current favorite dress: Lindy Bop's Lily dress. I have been wearing this dress everywhere, and yet, it proves to be difficult to photograph. We've been shooting it all summer, and either the dress or my face (admittedly, it's usually my face) looks odd in pictures.
I love it so much because it's:
Gorgeous.
So comfortable–it's got a little bit of (not vintage) stretch.
Easily dressed up or down
Wearable with or without a crinoline
Blue. I love blue dresses. I would buy every blue dress, left to my own devices.
Floral–I am finally recovering from years of avoiding florals. I wore a LOT of florals as a teenager-young adult, and I was convinced they made me look like a fundamentalist. Suddenly, I'm into them again.