My garden is growing like wild!
Behold, the first harvest from my Victory Garden. The Fordhook Giant Swiss Chard is getting tall and strong. Using the self-explanatory named "Cut and Come Again" method, I cut some leaves twice last week. I wrapped them in a damp towel, and popped them in the crisper.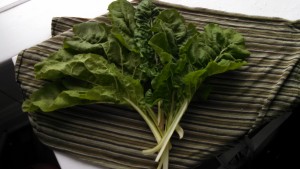 Today, I cooked up my chard bouquet. It's hot and humid, so I didn't want too much stove time. In the summer, when I have really fresh produce, I favor non-recipe stove top cooking. It's improvisational with what's available, and what kinds of ideas it gives me. So here's the recipe of sorts.
Ingredients
About two cups of chard, torn into bite sized pieces
Equal amount of kale, also torn into bite sized pieces
Whites of two green onions, chopped small
one clove garlic, diced
1/4 cup balsamic vinegar
1 can diced tomatoes
three fresh basil leaves
six small red potatoes, quartered
8 oz tofu, cubed
a bit of olive oil
Directions
Boil or steam the potatoes, set aside.
Dry fry the tofu. I do this by spraying a bit of cooking spray on my cast iron skillet, then tossing the tofu around in it over medium heat occasionally until it's browned a little. Set aside. 
 Saute the onions and garlic. Until soft and fragrant.
Throw in the chard and kale. Stir them around, they'll wilt a lot.
Add the balsamic vinegar. Stir again, cook another minute
Pour in the tomatoes. 
Mix in the tofu.
Heat through.
Serve over potatoes.