I have a fondness for coffee.
Okay. Fine. I am addicted. I come from a long line of coffee addicts and pushers. However, I am not really into drip coffee makers. This isn't from any snobbery, it's really about anxiety.
If I have a heated electrical appliance, I will convince myself I have left it on when I've left the house. See also: curling irons, clothes irons, electric stoves, etc.  Using a French press allows me to make my coffee and then not spend the rest of the day quietly panicking about burning down the apartment building.
The French press is also handy because mine is the right size for me, the lone coffee drinker in the household. And, yeah, the coffee is better than drip. However, one thing the French press is not great at is staying hot.
It's not its fault. It's made of glass. It has a lot of surface area. It can't help it. I'd been thinking of making some kind of cozy to insulate it. I was planning on knitting something, but when I saw this adorable felted one, I got inspired. Using old sweater bits for the insulation is genius. Margo at Thrift at Home routinely uses old sweaters to stuff hot pads and the like. I don't have any old sweaters kicking around at the moment, but I do have a pair of gloves that needs a rework.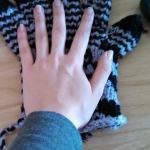 I have kind of tiny hands. These gloves are snuggly and warm, and were a thoughtful gift from a friend. But my hands are significantly small for them, especially after the gloves stretched out over time. Time for a new life!
First things first, I wanted a basic rectangle shape of insulation. So I removed the fingers from the gloves.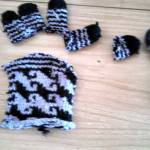 Then I cut open the hand part of each glove on one side, to make a rectangle. One wasn't quite enough to fit around the press, so I cut the second piece in half.
I stitched them together messily. I just didn't want them to separate when they were inside the cover. I used this awful lime green embroidery floss because it was sturdy, would show up in pictures, and because it came in a pack, and I have no plans to use it on anything, as I find it visually jarring.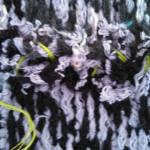 Next, I raided my scrap stash to find a nice cotton. When my grandmother moved out of her old house, she got rid of a lot of her quilting fabric, but let me go through it first. Consequently, I have a lot of small pieces of cotton, waiting for something to do. I wanted cotton because I am going to spill coffee on this, and want to be able to wash it.
I gave the fabric a quick press, then folded it over the glove piece, wrong side out. I pinned around two of the edges, and pulled out the lining.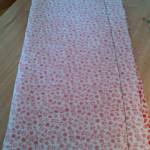 Two quick seams, and I turned it back right side out. I put the lining inside, rolled the open edge and stitched it down. Now I had a puffy rectangle.
Then I made two loops of elastic.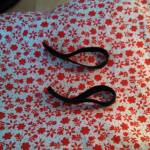 (Note: I ended up putting in a third one, for added stability). I stitched them on the inside, going forwards and backwards over them a few times to really secure them.
 The basic cozy was now complete! I stitched some ric-rac onto each short edge, for extra cuteness.
At this point, I realized that the insulation was going to try to roll over, and bunch up, and act like a piece of repurposed gloves. I stitched down about an inch and a half from each edge. (Note: Had I done this before finishing the edges, it would have looked much tidier and less lumpy.)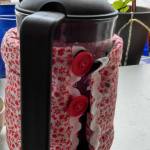 I picked out some red plastic buttons from my button jar. (Jars of buttons can often be found at antique stores, and they usually aren't very expensive. Then you have all the vintage buttons your heart could desire).  I stitched mine on, buttoned the cozy onto the French press, and voila!
 All told, this project took about an hour. Now I can enjoy a nice warm cup of coffee long into the morning.