"I have to stop objectifying Mary Tyler Moore!" I told B the other night.
We've been watching a lot of the Dick Van Dyke Show.
The jokes are great, the show is often very forward-thinking in it's early sixties way, and the cast is just stellar. Though I love dark comedy, there's something refreshing about a show where everyone is funny, basically decent, and trying to do the right thing.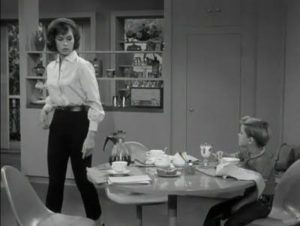 Things I'm digging:
Rob and Laura have a loving marriage, and the comedy is never based on disrespecting each other.
Rose. Marie.
I think I've always had a crush on early sixties Dick Van Dyke.
All of the main characters are smart.
Male and female non-romantic friendship is featured prominently.
Holy. Cats. Mary Tyler Moore's body was amazing. (See? I need to stop!)
So when the mister and I decided to take advantage of a free night at the Art Institute of Chicago, it's no surprise that my sartorial inspiration quickly ran to Mary Tyler Moore's incomparable Laura Petrie.