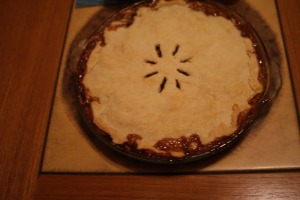 You really can't get more holiday traditional than mincemeat pie. At least, you can't in England. I think pumpkin eclipsed mincemeat in the States long ago. Mincemeat goes back to the Middle Ages–when Crusaders kindly brought back spices after wreaking havoc on the Middle East, setting up conflicts and issues that we're still dealing with today, but hey, spices! At that time, it did contain meat– often mutton, or beef tongue. It was banned under Cromwell, since it was associated with pagan (read: Catholic) Christmas celebrations, and in America Puritans banned it along with Christmas celebrations, too. In the 19th century it gained more popularity in the United States, only to fall by the wayside in the 20th century.
Meat proper hasn't been prominent in most mincemeat for quite awhile. Usually it is a mixture of fruit, spices, and sometimes suet. Making it just "mince", I suppose.
Our recipe was called "Old-Time Pear Mincemeat, and was originally intended for canning, yielding nine pints. Not really having a need for nine pints of mincemeat, we slightly less than halved the recipe, using a very precise technique known as "Eyeballing It and Hoping It Works Out."  And work out it did! It was delicious, and smelled like Christmas. More accurately, it smelled like what the final happy scene of Charles Dickens' A Christmas Carol would smell like, had it a smell.
Here is the recipe.
Ingredients:
2 pie crusts.
3lbs pears, peeled and chopped small. Minced, if you like.
1 box raisins, chopped slightly. A will laugh at you.
One third of a lemon, peel included, chopped small. (I was very skeptical about this, but it was delicious).
3 cups sugar (i.e. why the lemon is delicious)
half cup vinegar
Half a TBSP of cinnamon, cloves, allspice, nutmeg
Half a tsp. of ginger
 Technically, you're supposed to grind the pears, raisins and lemon together. We did not, because we couldn't be bothered. We settled for mixing them together.
Combine the remaining ingredients in a pot on the stovetop.
Toss in the fruit mixture.
Bring to a boil, lower heat, and cook until pears are soft and everything smells Dickensian (in a Christmassy way, not a despair way).
Realize there is nothing in this pie to make it set, ponder for a moment.
Use slotted spoon to strain fruit into the piecrust, add one to two cups syrup, whatever looks right to you.
Place top crust, seal edges, vent the crust.
Bake at 425 degrees for 40 minutes or until golden brown.
God bless us, everyone, etc.
Pro Tip: We had a lot of apples leftover from other pies, so we cooked them in water until soft, strained them, put them through a food mill  and combined them with the leftover mince syrup. Voila, Christmas Applesauce.